French trailer for 2046
.
Putangina.

Today, Sep. 28, 2004, after 5 years of shooting, 2046 is released in Hong Kong & China, where my parents are right now. Damn it, I should've gone with them.

It's almost my second near-miss with the film. It was supposed to close the Edinburgh Film Festival, but was withdrawn at the last minute, because Kar-Wai was still editing (and shooting, though that wasn't being publicized). Which meant that the version shown at last May's Cannes Festival would not be the final cut. In fact, he only finished editing this month. In the end, it was finally decided that Leung's character would indeed be Chow Mo-Wan, his character from In the Mood for Love.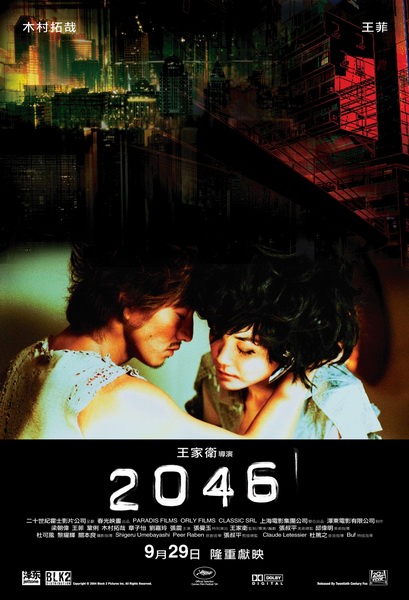 There's an excellent
article
over at the New York Times Magazine. It gives a nice round-up of the events leading up to 2046, including some info about an alleged "split" with cinematographer Christopher Doyle (cited to have occurred in January, there was absolutely no mention of it during the Doyle event I attended in late August, and the host of the event even made a side comment that they were shooting together the week prior). Also much appreciated is its regard of Willam Chang and his contributions to Kar-Wai's ouevre. There are also some tidbits: Nicole Kidman sought him out last year to discuss working together, and was undeterred when he told her how uncertain his working process is like. He's going to develop 3 English-language films for Fox Searchlight, though not necessarily write or direct any of them. Also, clarification on his project with Tony Leung about the man who trained Bruce Lee, not Bruce Lee himself as previous reports claimed.
I'm hoping that since we saw Hero way earlier than most other countries, and are about to have the same opportunity with House of Flying Daggers, that 2046 will follow the same pattern.
You can find more pictures
here
, and a soundless teaser
here
.
Hot Damn.